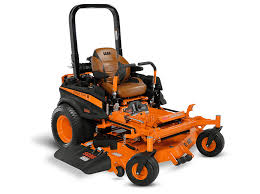 *Available with Briggs and Stratton Vanguard BIG BLOCK EFI engine, Kawasaki FD791D-DFI, FD850D-DFI or Propane-Powered Kohler Command Pro EFI engine.
*High-strength, double-tube steel frame, replaceable front caster wheel weldment.
*Cutter deck driveshaft system provides consistent, reliable power and a wide cutting-height range. Deck cutting heights range from 1 1/2" to 6" in 1/4" increments.
*Heavy-duty drive system features dual 16cc pumps and high-torque wheel motors for responsive, dependable power.
*Up to 12 mph forward speed.
*Large-capacity hydraulic system includes a large oil cooler to increase hydraulic component efficiency and extended system life; pump cooling fans further cool the hydraulic system.
*Fabricated, welded and reinforced Velocity Plus Cutter Deck is ultra-strong and true commercial grade. Tri-Plate deck is nearly 1/2" thick.
*Flat-free cast tires reduce maintenance costs.
*Large 26" drive tires deliver superior traction and a smooth ride.
*Foot-operated parking brake allows the operator to apply the brake without removing hands form the steering controls. Ausco disc brakes for reliable performance.
*Large capacity, single fuel tank with a large, angled neck for easy filling. 12-gallon capacity. Tank is mounted under the seat to lower the center of gravity for better stability and handling.
*Tiger Eye Advanced Monitoring System keeps a constant, real-time "eye" on important system functions (specific functions vary by mower model and engine.).
Please Call 763-248-0064 for pricing, availability, demos and our Fleet program!!